First Nation Environmental Water Guidance

In 2018, NBAN was invited by the Murray-Darling Basin Authority (MDBA) and the Commonwealth Environmental Water Office (CEWO) to propose a methodology for collecting First Nations' environmental watering objectives and for delivering them at a site, river and Basin scale, with the view that they be incorporated into the MDBA's annual watering priorities for 2020-21 and its long-term environmental policy development and reviews, as well as the CEWO's water use decisions and delivery.
The MDBA watering priorities methodology establishes long-term and annual priorities across four themes: river flows and connectivity, native vegetation, waterbirds and native fish. In trying to find a common language between Traditional Ecological Knowledge (TEK) and western science, NBAN identified four complementary themes; river flows and connectivity, native vegetation, native birds and native animals, as well as a fifth theme: Connecting with Country. For First Nations, water for activities such as fishing, gathering, swimming, teaching and storytelling, cannot be separate from water for the environment, so objectives for this theme were also collected.
Over the course of the First Nation Environmental Watering Guidance (FNEWG) project, NBAN worked with 16 Nations to collect over 10,000 environmental watering objectives at 111 sites across the northern Basin.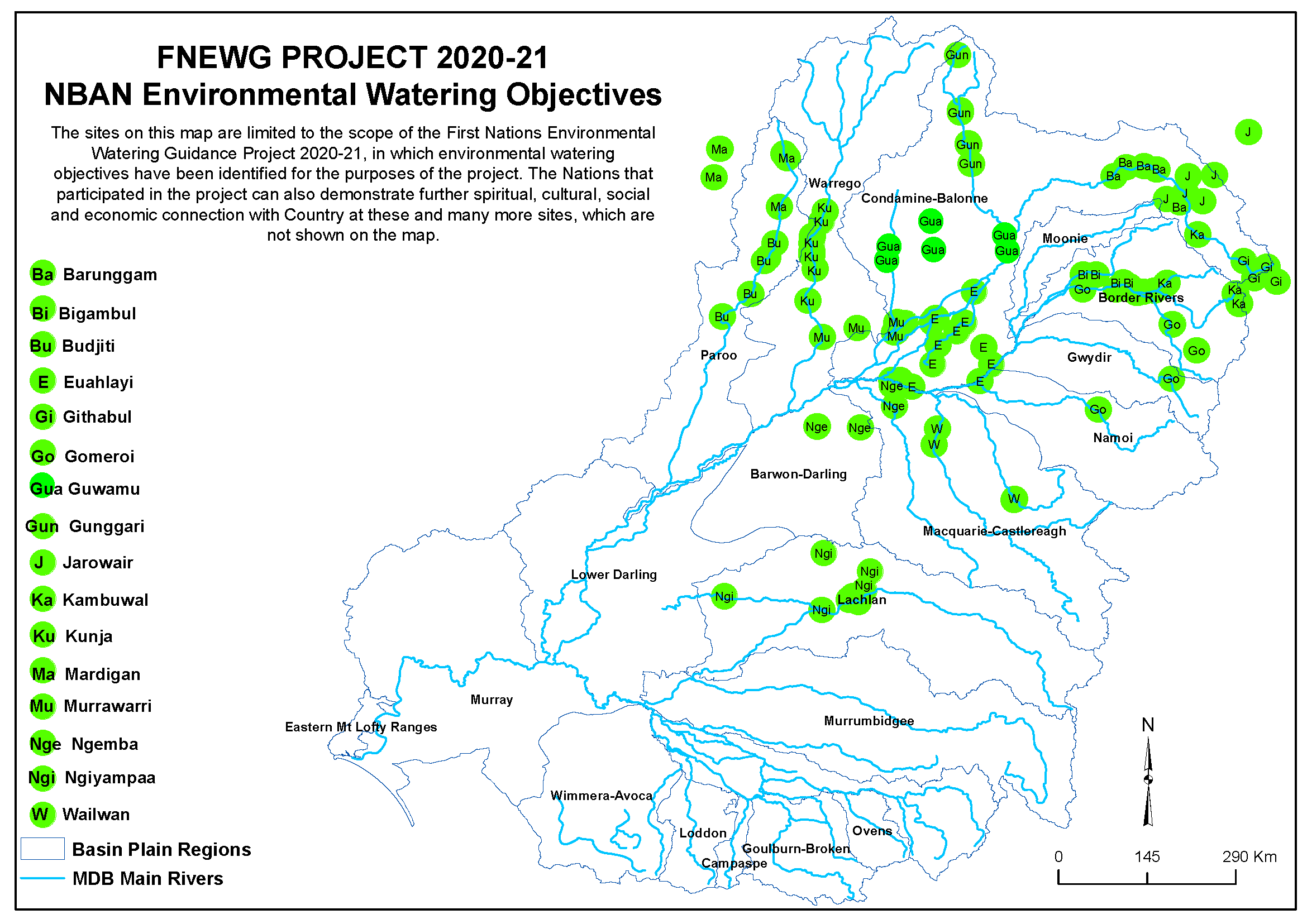 Following the collection of each Nation's environmental watering objectives, NBAN held a one-day workshop on the 11th of March 2020, with Delegates from all participating Nations. This was the first time that Nations were invited to come together to talk Nation to neighbouring Nation about environmental watering and shared waterways in the northern Basin, so as to provide the MDBA and the CEWO with interconnected environmental watering objectives, at a river and northern Basin scale. The river-scale objectives will be reflected in the CEWO's 2020-21 Water Management Plans, whereas the Basin scale objectives have been captured in the MDBA's Basin Annual Environmental Watering Priorities 2020–21.
NBAN believes that there needs to be a consistent and committed cultural shift at all levels of Government; federal and state, if we are to reverse the devastating effects witnessed within the Basin. Priority has to be given to First Nations' partnerships now and into the future, so that the situation can be repaired, our rivers can flow once again and we can return to healthy practices that rebuild our waterways and our land.
The 2020-21 watering year will, for the first time in history, see First Nation's environmental watering objectives acknowledged and incorporated into environmental water management at a federal level. This project exemplifies what it means to follow best practice in co-designing and partnering with First Nations in water planning and management. Now that the precedent has been set, NBAN hopes that states will follow the federal government's lead in partnering with First Nations when planning for and delivering environmental watering events on Country, across the Murray-Darling Basin.
The health of Country, including that of rivers and wetlands, is an integral part of First Nation peoples' identity and paramount in First Nations' law and lore, underpinning cultural obligations to ensure that longitudinal connectivity is maintained to the degree that neighbouring Nations downstream have water of a sufficient quantity and quality to meet their spiritual, cultural, environmental, social and economic needs. Achieving First Nation environmental watering outcomes is therefore unassailably necessary, to ensure First Nation peoples' health, wellbeing and cultural resilience.