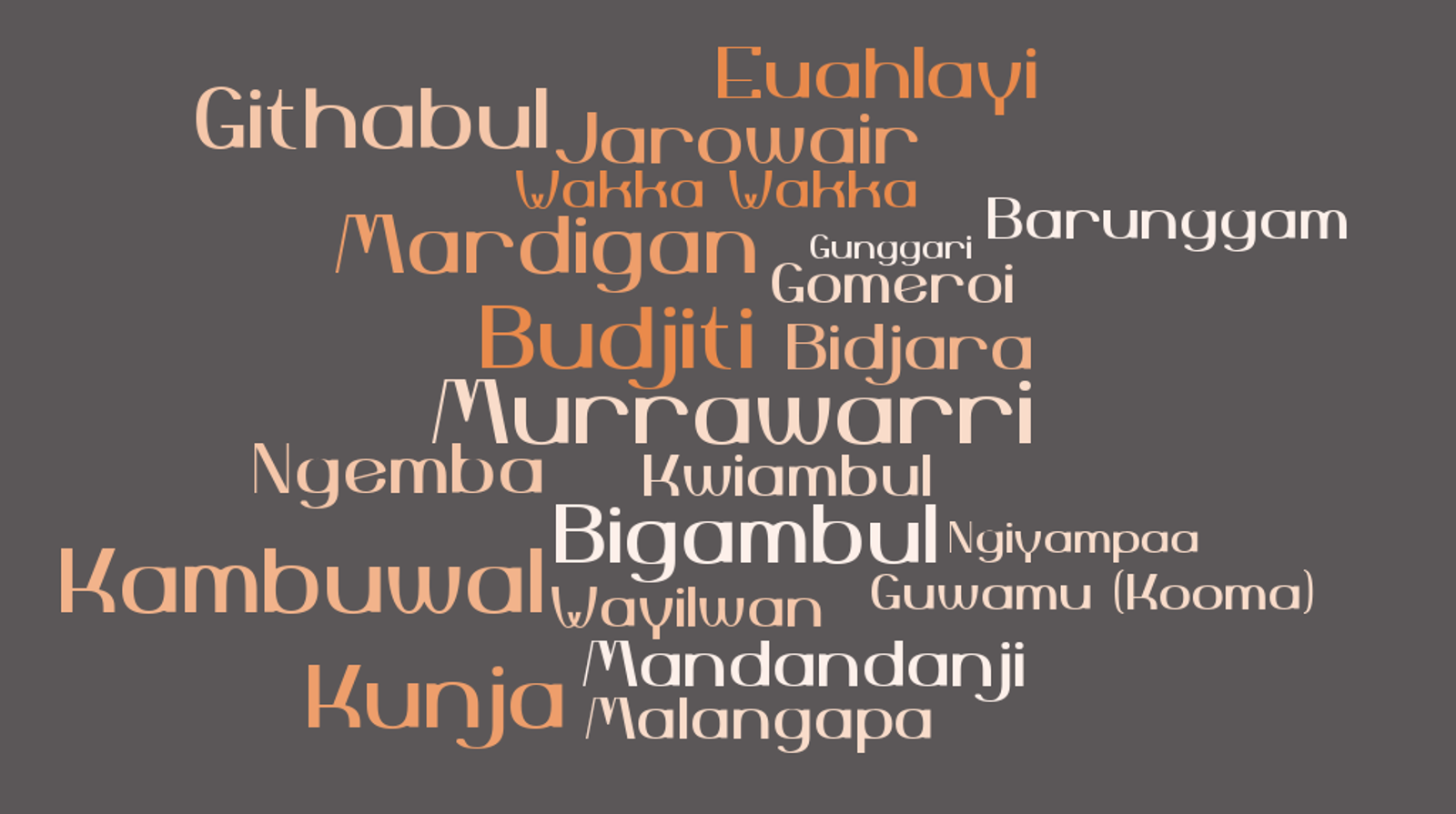 NBAN's membership comprises the following sovereign First Nations: Barunggam, Bidjara, Bigambul, Budjiti, Euahlayi, Gomeroi, Githabul, Gungarri, Jarowair, Gwamu (Kooma), Kambuwal, Kunja, Kwiambul, Malangapa, Mandandanji, Mardigan, Murrawarri, Ngemba, Ngiyampaa, Wailwan and Wakka Wakka. These Nations share a geographic and spiritual connection that they have harnessed, through NBAN, to advocate for their continued connection to the northern Murray-Darling Basin river system. Read more about Our Nation Delegates below.
Our Directors: 2019-2022
Every three years, Delegate Members nominate NBAN's Chairperson and a Board of Directors, from NBAN's membership. The last election took place in Tamworth in November, 2019. The Board of Directors manage and exercise all the powers of the company, except powers that are required by the Constitution or the Corporations Act to be exercised by Delegate Members at a general Gathering.
Acting Chairperson: Ghillar Michael Eckford
Deputy Chairperson: Position Vacant
Treasurer: Raymond Thompson
Secretary: Cheryl Buchanan
Director: Justin Saunders
Director: Owen Murphy
Director: Elvis Talbot
Director: Patricia Conlon
Director: Feli McHughes
Director: Averil Dillon
Our Nation Delegates
NBAN's Nations, through their self-determined governance structures, appoint two persons to each be Delegate Members of the company. Through this process, each Nation accords NBAN with the cultural authority to speak on behalf of the First Nations of the northern Murray-Darling Basin. Members meet annually, at a minimum, at a Gathering of Delegate Members.
Barunggam: Averil Dillon & Dorothy Daylight
Bidjara: Clynton Mailman
Bigambul: Justin Saunders
Budjiti: Position Vacant
Euahlayi: Ghillar Michael Eckford & Allan Lamb
Githabul: Melissa Chalmers
Gomeroi: Marcus Waters & Malcolm Talbot
Malcolm Talbot
Malcolm Talbot is from Ashford NSW, where he attended the local school. He worked on Tobacco farms before they were closed down during the government buyback of tobacco and water licences in the late 70-80s. Malcolm had 20 years of service within the NSW Police Force, and now resides in Ashford, enjoying the peace and quiet.
Gunggari: Lynette Nixon & Edward (Ted) Martin
Lynette Nixon
Aunty Lynette Nixon is a warrior and NBAN Delegate of her Gunggari Nation. Aunty Lynette was at the forefront of three successful Native Title land determinations, restoring the Gunggari Nation, and has made sure the knowledge and traditions of her people are taught and remembered. As winner of the 2018 NAIDOC Female Elder of the Year Award, Aunty Lynette is most proud of the fact the youth of the Gunggari Nation are following her lead and stepping into advocacy and representative roles.
Edward (Ted) Martin
Ted Martin of the Gunggari Nation became a Delegate of NBAN because of his love of Country. He has participated in NBAN workshops and Gatherings, including the last Gathering of Delegates in Tamworth 2019. Ted enjoys sharing cultural knowledge, particularly with younger people, and has a strong spiritual connection to the waterways of his people.
Guwamu (Kooma): Bernadette Gibbs
Jarowair: Phillip West & Stephanie Miller
Kambuwal: Andrew (Tom) Brown & Barry Brown
Andrew (Tom) Brown
Tom Brown has been an NBAN Kambuwal Delegate for 9 years. His initial desire was to meet, listen and learn from other Delegates in all aspects of traditional cultural heritage and cultural knowledge. He sees the manner in which all NBAN meetings are conducted as a credit to the founding members.
Barry Brown
Barry Brown has also been an NBAN Kambuwal Delegate for 9 years. He has gained many good friendships through attending NBAN meetings and especially enjoys the sharing of knowledge and support. The friendly way meetings are conducted is an appreciation he shares with his son Tom.
Kunja: Maureen McKellar & Kymberley Monaghan
Kwiambul: Elvis Talbot
Elvis Talbot
NBAN's Kwiambul Delegate Elvis Talbot views the work being done now from a long term perspective. His commitment to the advancement of his Nation is deep-seated, from his role in the establishment of the Newcastle All Blacks Rugby League team in 1978, to his participation in activities around Aboriginal heritage sites in Wollemi National Park. He is optimistic about NBAN and Aboriginal water rights: "Much can be achieved when the right people get together with the right attitude and work together for the good of all".
Mandandanji: Kay Blades
Mardigan: Owen Murphy & Dorothy Cindy Anderson
Owen Murphy
Owen is a claimant of the Mardigan People as part of the first claim for the Nation, and is a believer in Mardigan lore and the traditional way. Owen joined NBAN 6 years ago, once Mardigan was incorporated. Owen would like to see NBAN work with people at a grassroots level, to get the rivers flowing properly, as "water is our bloodline".
Owen would also like to see NBAN work with traditional owner groups, and give them guidance on becoming incorporated.
Murrawarri: Fred Hooper & Phillip Sullivan
Fred Hooper
Fred is a Murrawarri man from the Murrawarri Nation. He was responsible for the Murrawarri Nation declaring their continued independence from the British Crown. Fred is also the chair of NBAN, and has worked tirelessly over the past 10 years to secure water rights for First Nations and their peoples in the Northern Murray-Darling Basin.
Phillip Sullivan
Philip is a Murrawarri man. His mother's father and grandfather are from the Ngemba Nation, and he carries the totem on his grandfather's side, the yellowbelly. Like the yellowbelly, Phil can't go without water, as "water is life".
The Government may argue and debate about water, but the animals, the plants and man can live and look after our water as one, with NBAN leading the way. He would like NBAN to be seen as leaders in the First Nation water space, through strong leadership in the water debate.
Ngemba: Feli McHughes & Lynette McHughes
Ngiyampaa: Peter J Harris & Barry Williams
Peter J Harris
Peter is a Ngiyampaa Wangaaypuwan descendant that lives on the Lachlan River. He is on the Lachlan Environmental Water Advisory Group, and on the Aboriginal Community Advisory Group with the Western Local Land Service. His main focus is to have the Booberi and Willandra Creeks flowing at all times, for cultural practices and spiritual connection.
Barry Williams
Barry is a a proud Ngiyampaa man, born in Lake Cargelligo. Barry grew up in Murrin Bridge and now resides in Euabalong. In the near future he would like to see all First Nations with water ownership rights, so that they can continue with their traditional and cultural activities, teaching the younger generation.
Wailwan: Raymond Thompson
Raymond Thompson
Raymond is a Wailwan Elder, and a descendant of Louise Hinton. As Raymond's passion is to get water back to the Macquarie Marshes, he joined NBAN to learn more about water.
Raymond sits on the Native Title Board and the Three Rivers Regional Assembly. He is also the Deputy Chair of the Gilgandra Local Aboriginal Lands Council, and has recently been appointed to NBAN's Board.
Wakka Wakka: Patricia Conlon & Neville Conlon